West Bank (13+ boys)
West Bank is one of the four 'town houses'. It was built in 1866 by Howard Candler, an inspirational mathematician and writer, and housemaster in Edward Thring's time. Until its extension in 1900, it housed just six boys. Today, 55 boys enjoy its fine facilities and excellent location. The house is almost precisely equidistant from everything the school offers: the arts, science and sports facilities of the Western Campus, the main school buildings and music schools to the east, and the Middle and Leicester playing fields.
The house dining room and games room have recently been extended, and the boys make full use of the basketball court and gardens.
Fourth Form and Lower Fifth boys sleep in two-bed or four-bed dormitories, with individual studies. Upper Fifth and Sixth Form pupils live in single bedsits.
---
Housemaster: David Bartley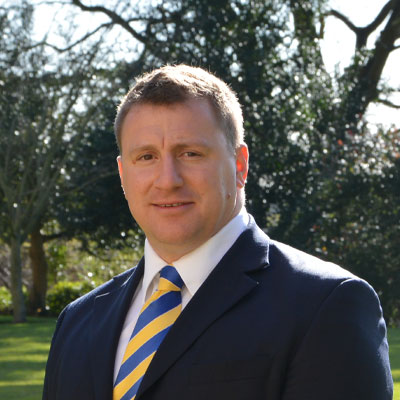 David joined Uppingham in 2016 after ten years at The Duke of York's Royal Military School, Dover. There he ran a senior boys' boarding house, taught PE and coached rugby and athletics. Before moving into teaching, David read Sports Science and PE at Loughborough University, followed by a career in the Royal Marines. He spent five years as an officer, deploying to Northern Ireland and Sierra Leone. He also represented the Royal Marines and Navy 1st XV at rugby, swimming and water polo. At Uppingham, he coaches 2nd XV rugby, junior hockey and athletics.

David's wife, Annabel, is closely involved with the house, as well as being a tutor in the school. She has previously been a housemistress in a junior boys' house, and teaches Drama. David and Annie have two young sons, Hugo and Milo. Together they aim to provide "a safe, happy home with strong friendships between boys and staff, and a sense of camaraderie".